The land of miles and miles and miles of sand
Charleston is known as a great vacation destination for many reasons and beautiful beaches with salt breezes are on the top of the list. Visitors can cavort in the waves, play in the sand, collect seashells, watch dolphins frolicking, or have a delicious meal at a seafood restaurant on the beach. There are family days with plenty of activities to secluded spots where nature and scenic landscapes surround you, to historic lighthouses and wild, pristine beaches for the adventurous.
There are six beaches in close proximity to Charleston and four that require a little longer drive. Those closest are: Folly Beach, Sullivan's Island Beach, Isle of Palms Beach, Kiawah Island Beach, Seabrook Island Beach, and Edisto Beach. The four beaches that are further out from Charleston may be for the adventurous and those seeking a 'different' experience: Bull's Island, Morris Island, Pawley's Island and Caper's Island.
Of the beaches in close proximity, Folly Beach is the most popular overall. The Isle of Palms Beach is the most popular with families. Sullivan's Island Beach is considered the most charming, Kiawah Island Beach the least crowded and Edisto Beach is the most pristine. Seabrook Island Beach is a gated, private beach where only residents or paying guests (renters) have access.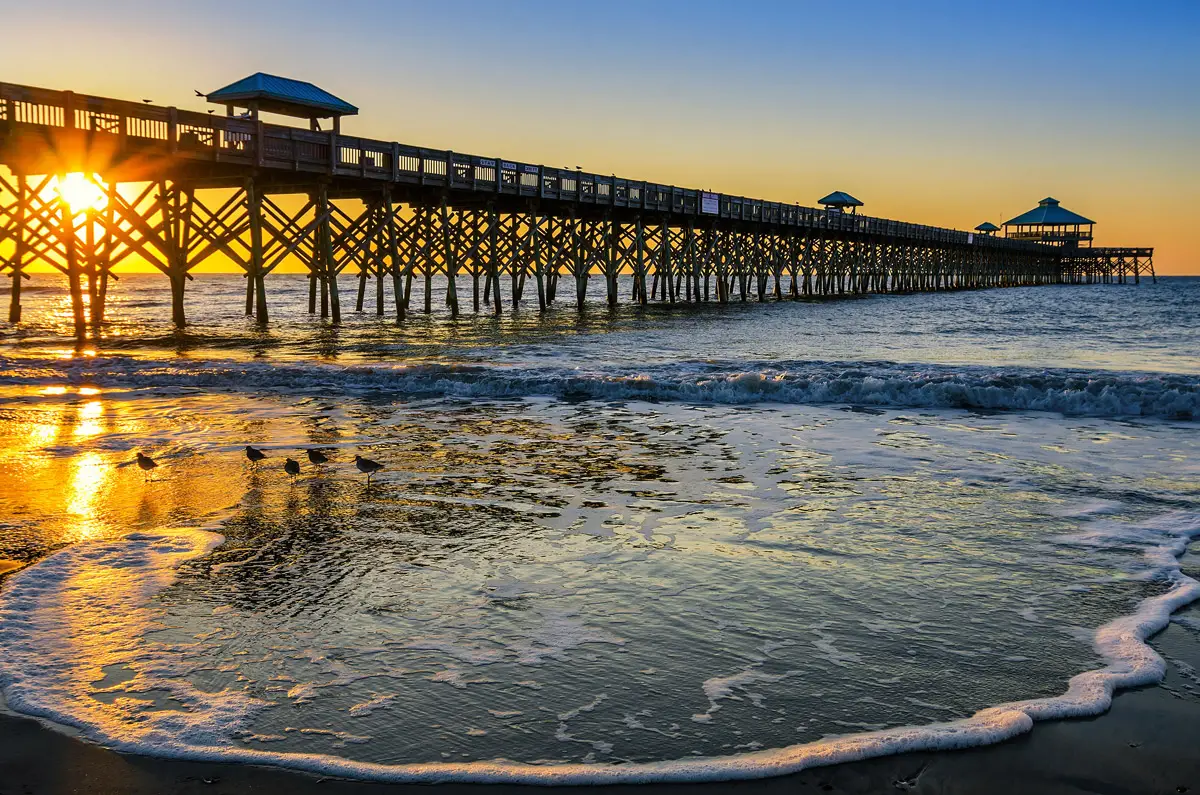 Folly Beach is known locally as the Edge of America. It is a barrier island with nothing but the Atlantic Ocean stretching out before it, located only 12 miles or 20 minutes from downtown Charleston. It has been able to retain a 'small-town-character' despite its popularity.
Its varied beach community consists of surfers, college students, locals, fishermen, and vacationers as well. Being the closest beach to the city of Charleston and having six miles of shoreline, visitors to the city are drawn to Folly Beach to take a relaxing walk along the beach, hunt for seashells, or watch a beautiful sunrise or sunset from the fishing pier. The fishing pier is 1,045 feet long and is the second longest pier on the East Coast. It is great for walking, enjoying scenic views and of course for fishing. Center Street is the town's colorful main thoroughfare where funky restaurants, cafes, and bars abound along with a wide variety of surf and souvenir shops.
Folly Beach County Park is on the western end of the Island. There you will find showers, restrooms, changing rooms, picnic areas and a snack bar. At the opposite end of the Island is the area called The Washout, known for having the area's best waves and where most surfers go. There you can watch surfers or sunbathe at the Lighthouse Inlet Beach, the most secluded beach on Folly Island. From that vantage point there are also great views of the Morris Island Lighthouse. During the summer months, the parking lot, which is about a quarter mile from the beach, fills up quickly. You have to pay for parking at the County Park, the Folly Beach Pier, or public beach access points.
Sullivan's Island is home to the unique-looking Sullivan's Island Lighthouse. To get there requires a 20-minute drive out of the city across the Ravenel Bridge over marsh and wetlands to reach this lovely three-mile long barrier island of pristine, smooth sand beaches and great views of Fort Sumter, The Morris Island Lighthouse, and The Battery Harbor. Also, Poe's Tavern on Middle Street is well worth a visit for their "killer burger". The poet was stationed there during his military service from 1827-1828. Flip-flops and salty hair are always welcome on the front porch.
In the off-season, Sullivan's Island is mostly a quiet local community of old-school cottages and small-town charm. But, in the spring and summer, day-trippers from the City throng the Island at low tide when the beach sands are wide enough to accommodate them. The beach has public access points, but the Island has no public restrooms, showers, or public parking lots. However, if your feet are sandy, stop at Home Team BBQ for some tasty 'eats' and you can rinse off your feet while you're waiting.
Sullivan's Island Beach hosts The Farmer's Market every Thursday 4:00-7:00 pm where you can purchase local produce and other goods; and there are food and craft vendors during that time.
The "Art on the Beach" event is a tour of homes on Sullivan's Island held annually on the second Sunday in November. You can purchase tickets for a self-guided tour from 1:00 -5:00 pm. A map is provided for ticket holders to explore a well-curated gallery of artists in each location, from fine art to found art, including jewelry and crafts. Local chefs offer samples of their cuisine along the tour. [All proceeds benefit Charleston Pro Bono Legal Services, a non-profit organization that provides free civil legal services to hundreds of low-income individuals and families in the community each year.]
No lifeguards are on duty at Sullivan's Island Beach, so you swim at your own risk. There are a number of beach rules and regulations regarding the use of the Beach of which every visitor should be aware. Free parking is available along the streets leading up to the Sullivan Island Bridge.
Isle of Palms is known as the area's most family-friendly beach with six miles of stunning white sands only 12 miles or 25 minutes from downtown Charleston. There is a vast range of activities available to both locals and tourists: water sports, golfing, boat tours, a fishing pier and fishing charters.
Tourists can paddle the intercoastal waterway to possibly encounter dolphins and get close-up views of coves and marshes or take advantage of an opportunity to watch sea turtles during egg-laying season.
Did you know we offer an intercoastal waterway boat tour? If you are looking for a relaxing way to spend your day, drinking your favorite cold beverages with a cool breeze on your face then our intercoastal waterway may be the tour for you. The intercoastal waterway is about 3000 miles long with stunning views and so much wildlife to see.
There are hotel accommodations and rentals as well as a variety of restaurants, bars, and shops available within walking distance of the Isle of Palms beach. There are public restrooms and two public parking lots near the beach for a fee and metered parking on most streets.
While it is the most commercialized of the Charleston-area beaches, it is popular with families because of the strict "no alcohol" on-the-beach policy, the calm waters, and the cleanliness of the beach and town. At the Isle of Palm County Park, there are public restrooms, showers, a picnic area with tables and grills, a sand volleyball court, a playground for the littlest visitors, a boardwalk and vending machines. During the summer tourist season, the beach has lifeguards, a snack bar, and beach chair/umbrella rentals.
Kiawah Island, located about 20 miles or 45 minutes from downtown Charleston, is regarded as one of the country's most beautiful, least developed and natural barrier islands, featuring 10 miles of pristine sands and preserved maritime forests and marshes.
Kiawah is a private, gated community where the majority of the beaches are under private ownership, but you don't need a homeowner's deed to enjoy the Beachwalker County Park beach at the southwestern tip of the island where the sands are as soft and beautiful as anywhere else on this nature-lover's island. All you need is the entry fee of $5-$15, depending on the season.
Kiawah boasts some of the widest and least crowded beaches in the area, fronting on the ocean with views of the Kiawah River. Beach chair and umbrella rentals are available seasonally and leashed dogs are welcome. To access some of the private beaches, stay at The Sanctuary, Kiawah's luxury oceanfront hotel or you can book a house or villa rental.
Seabrook Island, only 30 minutes from downtown Charleston, is located between the Atlantic Ocean and the Edisto River and boasts 3+ miles of the widest beaches in South Carolina. It is one of Charleston's private, gated residential beachfront communities known for its elite summer homes. The pristine sandy beaches are a critical habitat for turtles and birds and offer a great place to view dolphins. Seabrook is an Audubon International Cooperative Sanctuary for a variety of wildlife, including foxes, bobcats, deer, sea turtles, and bottlenose dolphins.
The North Lagoon Beach is the most secluded, uninhabited, widest beach on the island where dogs are allowed to run off-leash. Pelican Beach, renowned for its beautiful sunsets [it's called 'sunset beach'] has almost no waves making it great for families with small children but has almost no amenities. At Bohicket Marina you can enjoy a sunset stroll by the Edisto River and stop at the Salty Dog Café for a tasty seafood snack and refreshment while gazing at the dreamy water views. Kiawah's Beachwalker Park is just a few miles away.
The beaches are private to residents and rental guests only, so if you wish to tour the island you must call to schedule an appointment.
Edisto Island Beach, located about an hour from downtown Charleston, is a non-commercialized beach with 4 1/2 miles of unspoiled coastline. The pristine beach is less crowded than other beaches in the area and the laid-back, slower-paced lifestyle and the natural beauty of the area make the trip worthwhile. There is easy access to the shell-rich beach and opportunities for boating, fishing, crabbing, shrimping, kayaking, bird-watching, or just sitting by the surf.
A visit to the palmetto-lined Edisto Beach State Park provides a picturesque backdrop for swimming, hunting, fishing, or strolling through some of the Park's trails. The Waterfront Restaurant or McConkey's Jungle Shack offer savory foods after a day's workout at the Park.
There are some beach house rentals, but no hotels or motels. Although it's a longer drive from Charleston, the calm and relatively quiet, family-friendly atmosphere makes Edisto Beach a hidden treasure. Besides the beach, Jeremy's Inlet at low tide offers an opportunity to sift through fossils, seashells, and shark's teeth that have washed ashore.
Free parking is available at the public beach access points, or visitors can pay to park at Edisto Beach State Park. 
Bull's Island is a remote 5,000-acre barrier island and natural retreat only accessible by ferry. Although it is only about 45 minutes away from downtown Charleston, when you are there, it feels so much further away from the comforts of civilization due to its unspoiled topography.
The North Beach, especially, is an enigma, described as a Robinson Crusoe-esque stretch of untouched sand. And then there is Boneyard Beach, which morbidly looks like a scene from an Edgar Allen Poe story with spiny tree branches poking out from beneath the sand.
You'll fall in love with the wild and remote beauty of the island's seven-mile beach. Bull's Island is a beachcomber's paradise and is perfect for finding sand dollars. While sand dollars are in abundance, the beach is usually filled with a variety of shells.
The position of the island in the Atlantic combined with the ebb and flow of the ocean tides in that specific place washes sand dollars toward the shore as if they were drawn there by some mysterious force. They are tucked just beneath the sand below the surf. A guide will teach you how to distinguish the difference between the live sand dollars and the dead ones because it's okay to keep the dead ones, but you should put the live ones back in the water. You will notice that live sand dollars are darker in color than dead ones (starting to turn white due to the sun) and the undersides of live ones are covered in little hairs that wiggle a bit.
If you plan to take a guided tour from Garris Landing in Awendaw, be sure to bring lots of water and a hat as there is no shade on or near the beach and there are no restroom facilities on Bull's Island. Also, bring a towel if you plan to enjoy the surf, but there are no lifeguards, so you swim at your own risk.
It is said that the best way to see Bull's Island is on a guided paddling tour where you can see the birds and maybe a dolphin or two, comb the beach for shells, track foxes, bobcat, or deer, and walk Boneyard Beach where a forest is being slowly swallowed by the sea.
Morris Island is an 840-acre uninhabited island in Charleston Harbor recognized today by its candy cane striped lighthouse. It is just minutes from Charleston and only accessible by a 20-minute boat ride. A tour guide can lead you on a hunt for shells and fossils near the lighthouse; or for the adventurous tourist only, a 55-foot power catamaran can be chartered for a 30-mile, one-hour tour that rides the waves on the lighthouse side of the Island. You will see five forts, two lighthouses and have a truly memorable adventure.
Morris Island is remembered for the months-long Civil War battle between Confederate and several Northern regiments. The siege at Battery Wagner on Morris Island was a costly battle for the U.S. as more than 1,500 troops were lost. But the Confederates abandoned the fort on the on Sept. 7, 1863.
The 161 ft tall Morris Island Lighthouse, located on the southern side of the entrance to Charleston Harbor, was constructed in 1876 after the previous lighthouse was destroyed by Confederate Troops during the Civil War. It is the tallest lighthouse in South Carolina with 201 steps leading to its top and was named to the National Register of Historic Places in 1982.
Pawleys Island, located 70 miles north of Charleston, is a picturesque barrier island with a four-mile stretch of beach accessible only by two short causeways. It takes a bit longer to reach this resort from Charleston than most of the other beaches. Separated from the mainland by a beautiful salt marsh, it is known for its casual, laid-back, carefree lifestyle where people enjoy crabbing in the creeks, fishing, lounging in rope hammocks and strolling along the unspoiled, enchanting stretch of wide beach and sand dunes.
As one of the oldest summer resorts on the East Coast it is renowned for its surf (some of the best waves are near Pawleys Island Pier), 10 first-rate golf courses and a large tennis complex. Locals and visitors enjoy surf fishing as well as fishing from the salt marsh bridges, crabbing off a crab dock, shelling, biking, canoeing, or kayaking. Swimming and sunning are the main activities of the day and leisure dining out and shopping are reserved for nighttime.
Settled in the early 1700s by plantation owners who would move their families, horses, cows, bedding, provisions and furniture to Pawleys Island in May of each year to escape the unhealthy air on the river to the refreshing ocean atmosphere until the first frost in November. There are still are 12 of those residences that remain, which date back to the late 1700s and mid 1800s. Today, there are lovely rental homes and beachfront hotels available for vacationers.
It has the largest free public beach access lot in the County, located on the south end of the island. In addition, there are 8 other public beach access points on the island.
Capers Island is a state-owned, protected and undeveloped barrier island 15 miles north of the city of Charleston. It can only be reached by boat but is one of the most remarkable sites along the South Carolina coast. Its narrow stretch of sand, known as Boneyard Beach, is a ghost-like forest of petrified trees sticking out of the sand, thanks to Hurricane Hugo. Living and petrified palm trees contribute to the surrealistic, mystical appearance of the beach.
At low tide, dolphins can often be spotted feeding and egrets and herons can be seen foraging in the surf. Paddling along the shores, you can see jellyfish and crabs; or you can walk the beach, discover tide pools, and explore the natural habitats of the alligators and deer that populate the island beyond the forest of sea-bleached trees covering the shoreline.
Before being purchased by the state, it was a private hunting retreat. The Capers Inlet dock has a boardwalk across the marsh to an unpaved nature trail which leads to the beach. Primitive camping is permitted there. Charters can be booked from Sullivan's Island; or if you're a little more adventurous (and athletic), you can rent a canoe or kayak to the island.
Something for Every Beach Lover
Due to the great variety of choices, from beaches closest to Charleston to family-oriented beaches; from pristine shorelines dotted with dunes to the esoteric and mystical marshes and coastlands of Charleston; and from quiet and remote islands to the busiest and most popular beaches, Charleston has a special place for every sunbather, swimmer, tourist, fisherman and surfer. Plan your visit to one or several of Charleston's sun-soaked destinations.