We Are The Life Of The Party!!
Party boats in Charleston are popular so now is the time to book your special event with us in advance on our "Ship of Fools", the most fun party boat on Charleston Harbor! People come to Charleston SC to relax and what better way to relax than by taking a boat cruise out on the water.
While the majority of our booking are bachelorette parties we can always find an excuse to party and will help you celebrate whatever the occasion. We love what we do and it shows when you come aboard, which is one of the reasons why we were voted "Best Tour Company" in The Post and Courier Charleston's Choice Awards.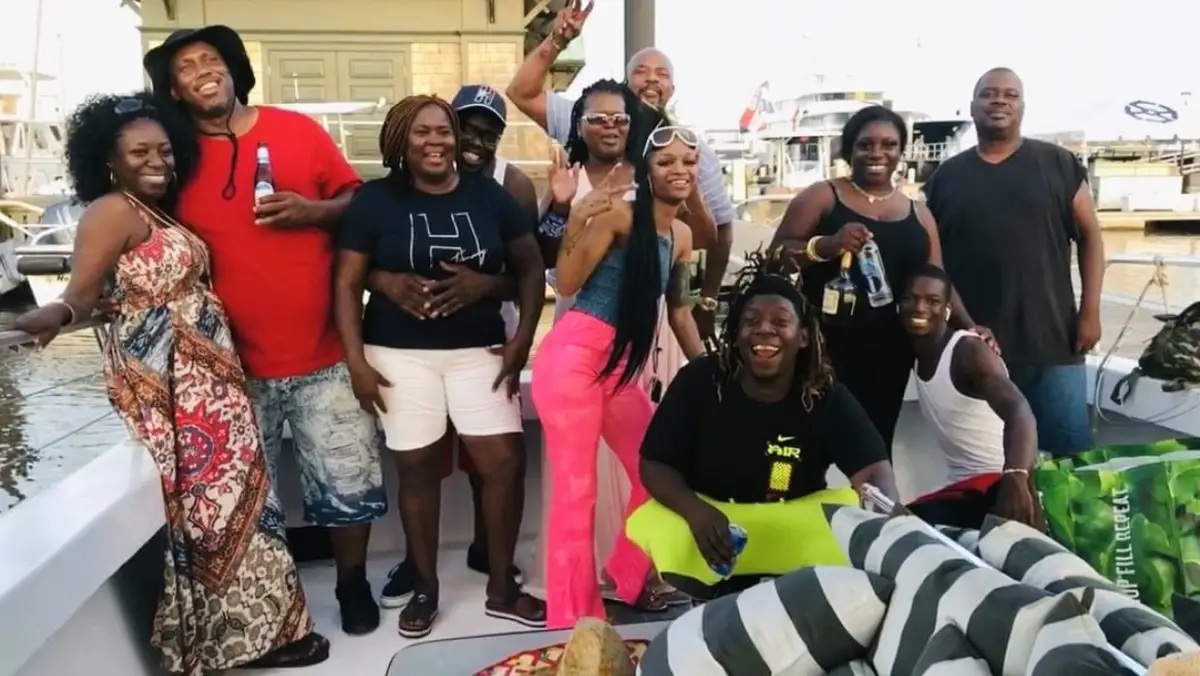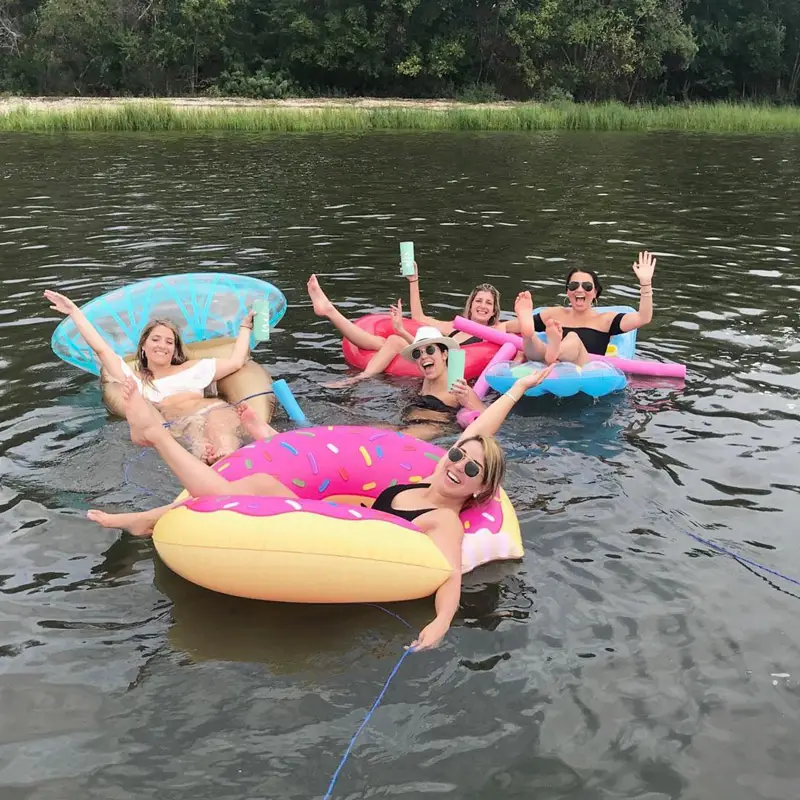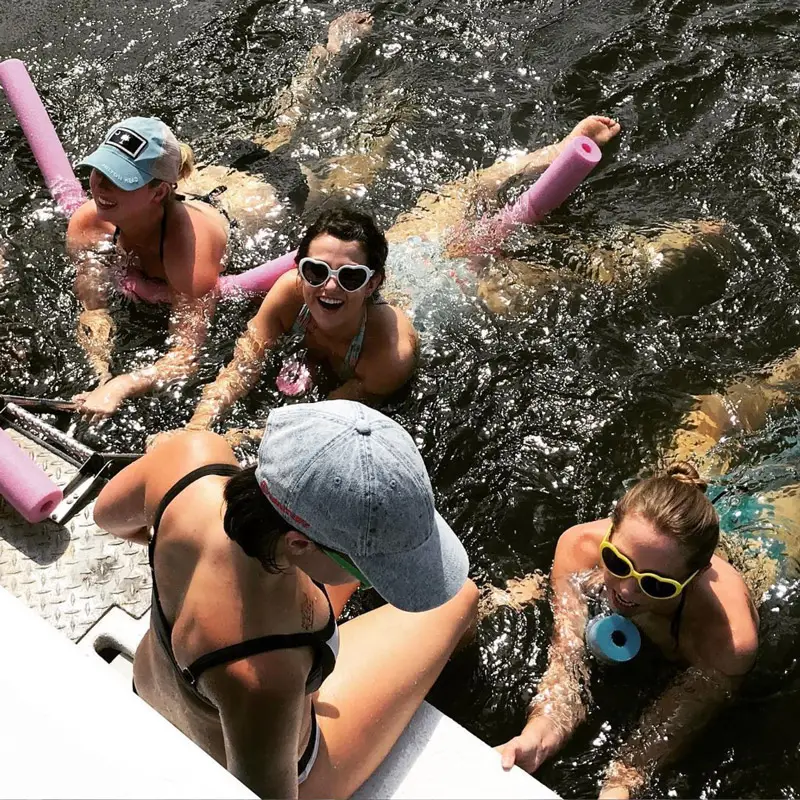 The Perfect Boat For A Party On Charleston Harbor
Our party boat has a swim platform to make it easy to board and we have added rafts, noodles and other toys to make the trip even more fun. We have a head (bathroom) which always comes in handy on a party boat.
When You Want To Get Down!!
The sound system is bluetooth so it is easy for guests to connect and play their favorite music and the boat has a very wide 12 foot beam which makes it very stable with plenty of room to move around or, dance around!
Enjoy soaking up some rays on the the huge sun pad or retreat from the sun as the boat is covered about 3/4 of the way to offer the best of both worlds. The decks are easy to clean so spilling of drinks and other stuff is not a problem if things get rowdy aboard, and this is actually encouraged! This makes it popular for a party for the guys when your best bud is about to get married as well as a party for the ladies looking for something unique and fun for the bachelorette. We love it when our guest tell us that we made their trip!
Day Or Night Charleston Is A Beautiful Party Location
One of the more popular things to do is to head to Shem Creek for shots. It's a fun and beautiful place to stop with the many seafood restaurants and shrimp boats. The lights on the water at night make it a great place to float for a bit and enjoy some music, drinks on the boat, along with some dancing of course!
Relaxing and Calm or an Upbeat Start to a Night on the Town
A sunset cruise is best enjoyed on a charted vessel with a captain that will take you to the most idyllic locations while you relax and take in the sights, smells, and sounds. The views are truly stunning. If you are paying attention to the water in addition to the sky then you may just catch the appearance of a dolphin. This is the perfect way to end a day in Charleston as the sky over the city explodes with color and then darkness descends to reveal the quaint beauty of Downtown Charleston.
You are welcome to bring along your favorite beverages as well as your favorite tunes which can play over our bluetooth equipped sound system. If you prefer a quiet evening we can always take you to a more remote location or if you are wanting to start the evening off with some fun on the water and get a little more wild on the water under the painted sky we can accommodate that as well. Here at Carolina Marine Group it is always:
What Our Guests Are Saying
Dave and Danielle are the consummate hosts, they're hospitality and friendliness make every tour something special ... Hands down the best in Charleston!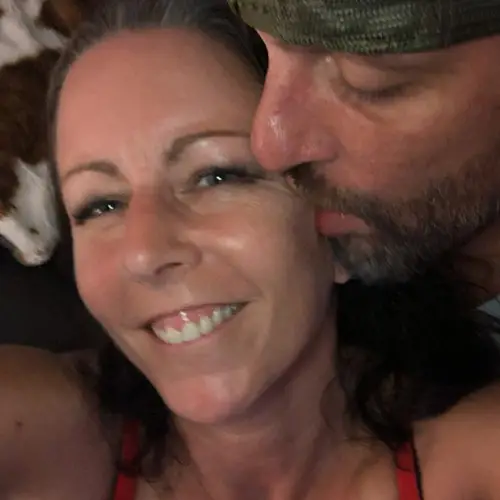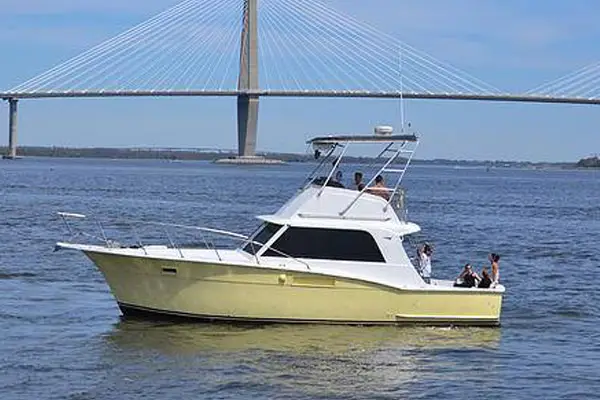 6 Passengers or less
2 Hour Minimum
 $250/HOUR plus 18% Gratuity

"Ship of Fools" Party Boat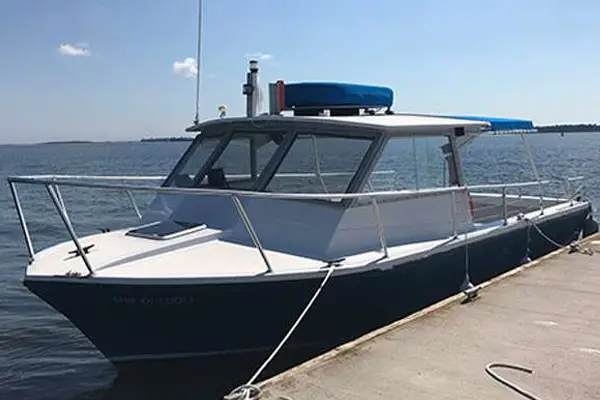 12 Passengers or less
2 Hour Minimum
$400/HOUR plus 18% Gratuity
13 to 18 Passengers
2 Hour Minimum
$500/HOUR plus 18% Gratuity
"Southern Comfort" Luxury Yacht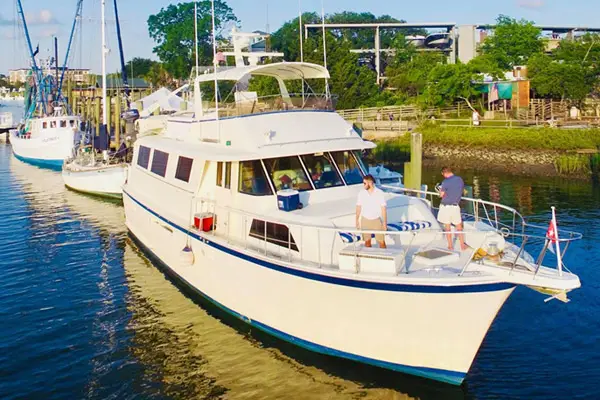 Regular Season
$425 per night for 2 guests
Additional guests
$75 per person per night
*Please note that prices are always subject to change and some tours are special set pricing. After you submit your request we will get back to you with exact pricing to complete booking of your tour.